Babe Force: 'Babes in the Woods' Backcountry Camp
March 4

-

March 5

$300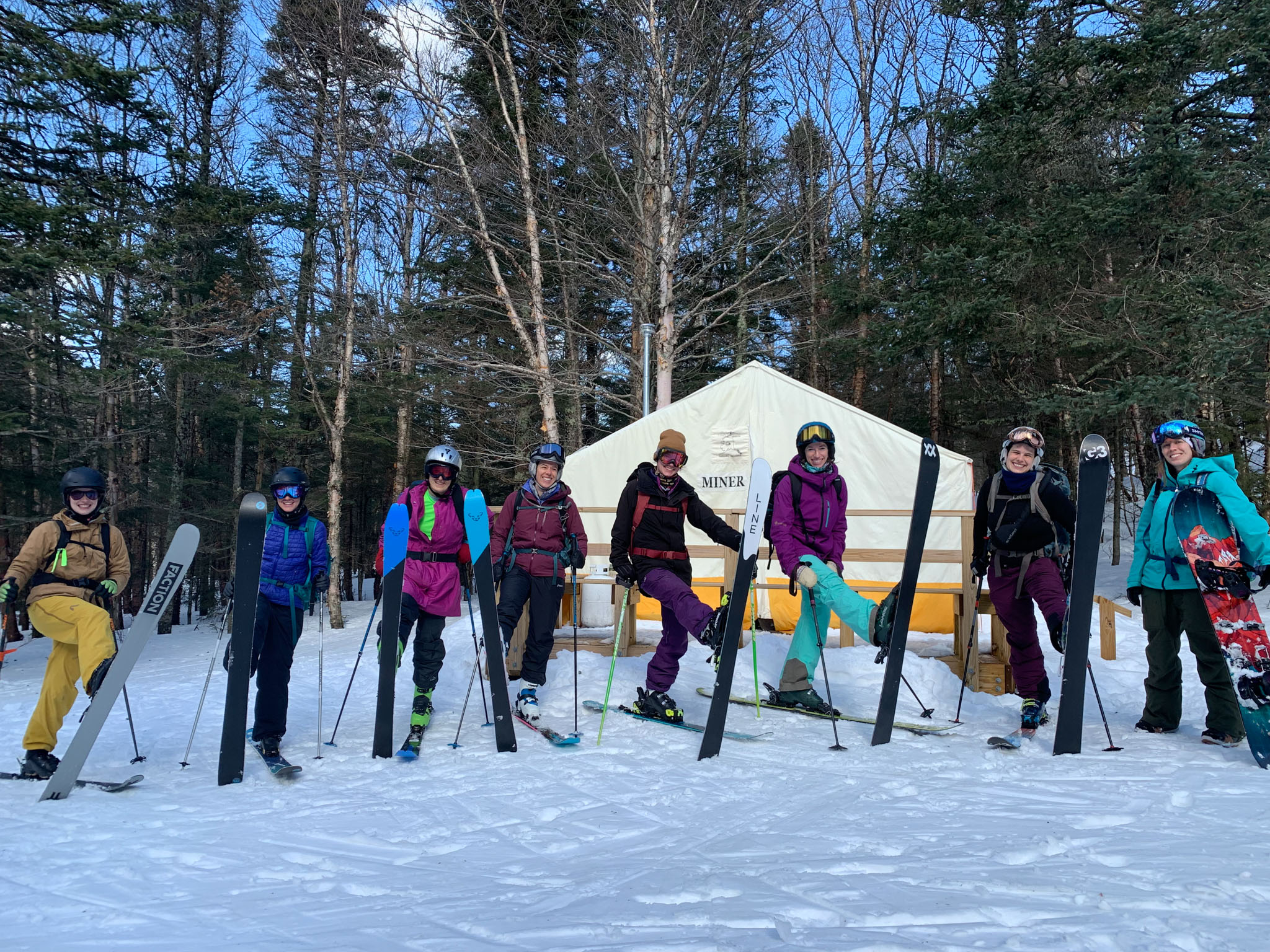 The 'Babes in the Woods' are BACK! Started in 2020 Babes in the Backcountry camp is a two day event hosted by Bolton Babe Force. 'Babes' (self-identifying women and non-binary folks) who sign up and participate will get to enjoy multiple skinning tours for both skiing and splitboarding, intro to uphill/backcountry clinic, waxing and tuning demo, a yoga class, and access to the Sports Center indoor pool, sauna, and hot tub.
The group will be split into three main groups, that may split off into smaller ones during the days. The groups are based on your spiciness (ability) level:
Bell Pepper: New to Uphill and the Backcountry. Come take our intro course and learn how to venture into the woods.
Jalapeño Pepper: The group ranges from people who have gone a few times into the backcountry and feel confident on their skins to people who go regularly but prefer a moderate pace.
Ghost Pepper: These people venture into the backcountry often and like to maximize the number of runs during their time out in the wild.
For this camp, we recommend skiers and snowboarders feel comfortable skiing/riding through wooded areas, through variable conditions, and through deeper snow. We also recommend folks feel comfortable with coming to a complete stop at any point in a matter of a few seconds in multiple different terrains; whether that's within trees, variable conditions, or deeper snow.
Price: $300*
*Price does NOT include Uphill tickets (now offered at a discounted rate as an +add on), lodging, rentals, or meals (We will include some breakfast items, snacks, and a light dinner)
Date: March 4th and 5th, 2023
Time: Saturday March 5th (8am check-in – Sunday afternoon)
Schedule (Subject to change):
Saturday
8 am: Sign in and Paperwork
8:30 am: Introductions
9:00 am: Split into spiciness (ability) level groups
9:30 am – 12:00 pm: Groups head off to their 1st backcountry adventure (Option to opt-in to Intro Class)
12:30 pm – 1:30 pm: Lunch break
1:30 pm – 4:00 pm: Groups head off to their 2nd backcountry adventure
4:00 – 5:15 pm: Groups return from touring. Free time to shower, swim, relax
5:30 – 6:15 pm: Light Dinner
6:30 pm: Choose between a Yoga class or Waxing and Tuning Clinic, or Après social (2 drink tickets provided) at the Sports Center
8:00 pm: Story time/recap
Sunday
9:00 am: Groups meet in the Sports Center and prepare for their second day of tours.
9:30 am: Groups venture off for either their morning skin or their full day tour.
Noon: Break for lunch – either in the backcountry tour or back in the base area
3:00 pm: Groups return from their second day of touring
3:30 pm: We all wrap up and say goodbye
Rentals: Our Nordic Center is extending a discounted rate on backcountry ski and splitboard gear for $50/per day, please reach out to [email protected]
Lodging: Rooms are limited! Our hotel is extending a 25% discount to all 'Babe Force' participants, please reach out to [email protected]
Cancelation/Refund Policy:
Full refunds will be given to participants with medical or covid-19 reasons for canceling.
Early notice – A partial refund will be given to participants who notify more than a week prior to the camp.
Late notice – Participants who cancel within a week or less of the camp will be given a partial refund if their spot can be filled from our waitlist.
Both early and late notices will have a $25 cancellation fee deducted from partial refunds.