I used to have a mountain bike when I was a kid. I would ride it around my childhood neighborhood and ride from house to house through the wooded sections around our street. That was probably from ages 8-12, then as I got older, I transitioned over to a road or hybrid bike, and the days of biking on natural surfaces were few and far between. 
That all changed summer of 2021.
It's Hannah here, I work in the marketing department at Bolton Valley, and one of my main duties at Bolton Valley is the trail reporter, so during the winter, I would be on snow skiing every day I came up to the mountain. But when we started to run the lifts and open our mountain bike trails, I found myself reporting on a sport I had no idea how to do. I spent hours learning the lingo and researching the mountain bike community as much as I could through the end of the winter and spring, but it just wasn't enough. I even borrowed a friend's mountain bike and had a friend teach me a few things in the progression park at Bolton Valley, but that didn't really help, as it wasn't the same terrain. 
So when our Mountain Program Director, Jen, reached out to me with all the information to upload a new Mountain Bike clinic specifically for women onto the website, I was impressed and inspired. The Women's Mountain Bike Clinic would be four two hour lessons spread over four Wednesdays. It was for all ability levels, whether you had never been on a mountain bike to if you were riding Hydra and just wanted a few pointers on how to hit Waterfall Gap.
The next day, I secured my spot for the women's clinic, and all there was left to do was wait.
It was showtime, it was time to learn how to mountain bike, and I was freaking out. My nerves were over the top about learning something new at the age of 23, let alone a dangerous sport.
There were around 25 women who showed up at the clinic, and we were all split up into our groups. I was with a few other women who had the only mountain biked a few times and needed some more tips and guidance.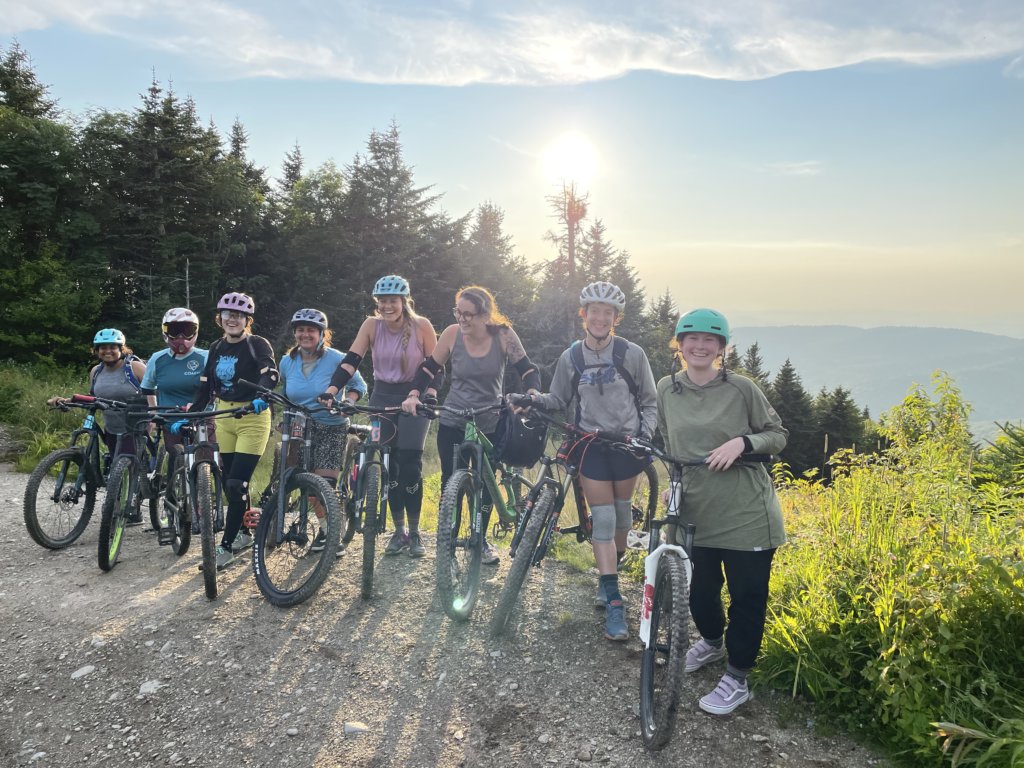 In the first lesson, we learned how to position our bodies while biking, how to tilt our bike when it came to berms, rollover different features, maneuver our handlebars, and turn our wheels appropriately all while in the progression zone.
While I was initially terrified of Bolton Valley's terrain, I was slowly taught how to handle the terrain and conditions that the mountain offers. We started off slowly though, the second lesson we biked on the green and blue cross country trails Bolton has and learned more of the technical aspect of what trails would be out of the hill. We learned how to turn quickly and how to bike over rocks while maneuvering down a single track.
When it came time for the third lesson, we headed straight up the lift. For me personally, when it came to the thought of taking the lift up and biking down, I was extremely scared. I knew what the terrain was like from an on-foot perspective and I seriously did not know if I had the ability to get down. 
My hands started to sweat, and my legs were shaking as we made the first descent down the work road towards the top of Spillway. This section was steep and gravel lined the whole path. I was terrified my wheel would slip out from under me. But slowly as we made our way further down the work road heading towards "Wright Bros," the nerves started to ease a bit and I became more comfortable on my bike. By the time we got to "Wright Bros," all new muscles hurt, and I was still shaking from nerves and tiredness, but I headed down the trail with my head held high pushing my worries aside. It ended being just fine and after a few times, it was a lot of fun.
We concluded the third session with another lift ride up and decided that we felt good enough to head down "Vista Glades." I may have gotten a bit ahead of myself, but it ended up being an okay experience. Towards the end of the trail, I fell pretty hard on one of the steeper berms but it ended up being something that I needed to go through in order to get over one of my biggest fears: falling.  
I wish I could say ALL of my nerves subdued as the lessons went on, but my confidence level did start to showcase itself more and more with every run I took, so I could balance my nerves and confidence. By the end of the four weeks, I possessed the skills to successfully ride down three blue downhill trails Bolton Valley offers, including their work road.
While mountain biking still makes me nervous, I feel more comfortable and confident every time I get on the bike. I also learned in a way that made me the most comfortable; being taught by awesome encouraging women. 
If you are interested in taking a lesson, check out this page! Just like in winter, they offer different lesson types and for all abilities, even for those advanced mountain bikers who want to further progress their skills.