Wowzah, what a beautiful fall day on the hill for racing! Thank you all who came out and congratulations to our podium finishers.
Results are in for the 1st Annual event held on Sunday, October 2, 2022 at Bolton Valley Resort. Thank you to our generous sponsors (Outdoor Gear Exchange and Darn Tough Vermont) and our incredible race organizers (Anthony Staples and Mark Clement). Can't wait to see what this dynamic team comes up with for next year's race!

Keep an eye on this page for more details on future mountain racing at Bolton Valley… we've caught the bug, and we have a feeling this is just the beginning of a fun climb together.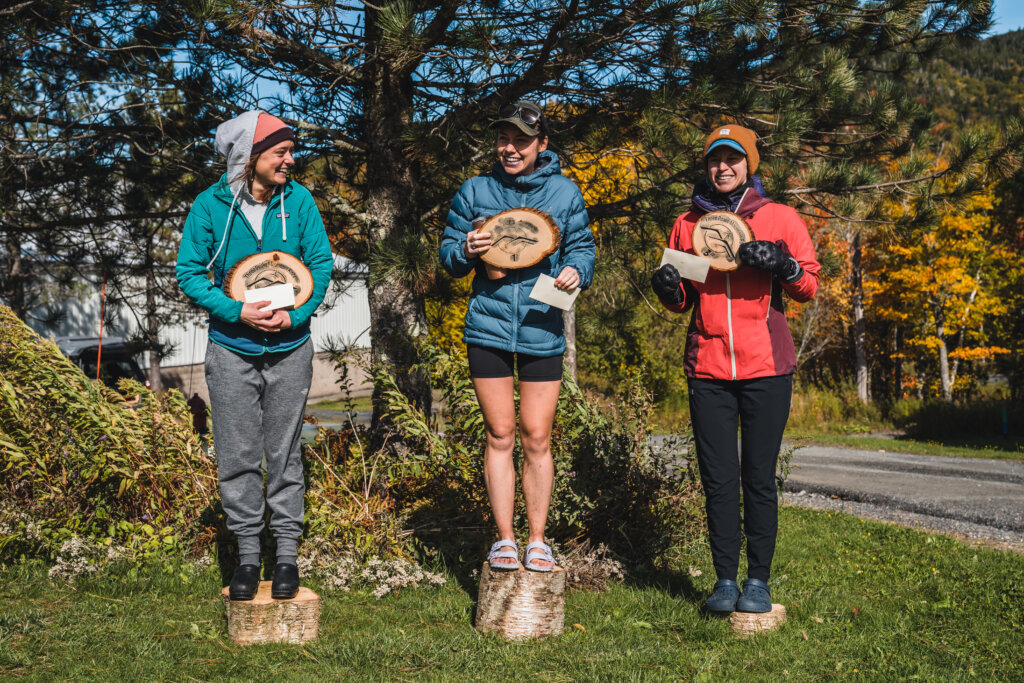 FEMALE OVERALL
1
61
2:01:51.9
MCDERMOTT, Cambria
2:01:51 / 1
2
67
2:16:51.5
MORGAN, Lily
2:16:51 / 2
3
32
2:19:44.1
EASTMAN, Lauren
2:19:44 / 3
4
97
2:20:47.5
YOUNG, Meghan
2:20:47 / 4
5
70
2:20:51.7
NOVAK, Emma
2:20:51 / 5
6
53
2:21:08.0
LEOPOLD, Maddie (wrong turn, ran longer course)
2:21:08 / 6
7
8
2:21:37.8
BROOKS, Ali
2:21:37 / 7
8
7
2:21:39.0
BRODERICK, Dylan
2:21:39 / 8
9
95
2:24:17.2
WILMARTH, Megan
2:24:17 / 9
10
106
2:28:02.7
MILLER, Clara
2:28:02 / 10
11
68
2:29:04.5
NAGY, Erzsie
2:29:04 / 11
12
40
2:29:06.6
GRALL, Hannah
2:29:06 / 12
13
73
2:34:43.2
PATCHETT, Mary Joy
2:34:43 / 13
14
105
2:35:38.5
PICCIRILLO, Ashley
2:35:38 / 14
15
45
2:39:36.5
HOLDEN, Kerra
2:39:36 / 15
16
44
2:40:38.7
HISKEY, Arlee
2:40:38 / 16
17
93
2:43:16.0
VOSE, Sarah
2:43:16 / 17
18
34
2:48:06.6
FETTER, Celeste
2:48:06 / 18
19
13
2:52:28.8
CATER, Lauren
2:52:28 / 19
20
60
2:53:12.5
MCCORMICK, Devin
2:53:12 / 20
21
57
2:56:28.1
MARTIN, Lili
2:56:28 / 21
22
33
2:56:38.0
EDWARDS, Liana
2:56:38 / 22
23
41
2:59:48.2
GRUNES, Anna
2:59:48 / 23
24
22
3:01:17.1
CUNDARI, Marion
3:01:17 / 24
25
49
3:01:57.8
IRISH, Brigitte
3:01:57 / 25
26
88
3:07:32.5
THOMSON, Haley
3:07:32 / 26
27
98
3:08:36.7
ZAMORA, Amy
3:08:36 / 27
28
81
3:08:41.1
SALLS, Riley
3:08:41 / 28
29
5
3:09:34.5
BALINSKI, Rachael
3:09:34 / 29
30
35
3:09:34.5
FLETCHER, Nadia
3:09:34 / 30
31
85
3:19:52.5
STAWINSKI, Sheila
3:19:52 / 31
32
39
3:22:35.4
GLASS, Emily
3:22:35 / 32
33
56
3:22:41.6
MANOSH, Stephanie
3:22:41 / 33
34
69
3:24:20.0
NEUHAUS, Alyssa
3:24:20 / 34
35
74
3:28:52.0
PATTISON, Fabienne
3:28:52 / 35
36
14
3:33:50.0
CAULFIELD, Heather
3:33:50 / 36
37
11
3:42:59.1
CARON, Ashley
3:42:59 / 37
38
80
3:44:28.8
ROSS, Marcy
3:44:28 / 38
39
15
4:17:00.9
CAULFIELD, Lynne
4:17:00 / 39
40
50
4:32:06.9
KOCH, Kristine
4:32:06 / 40
41
76
4:32:06.9
PORTER, Rylei
4:32:06 / 41
F MISSED A TURN AND RAN A LITTLE SHORTER
1
37
2:04:58.9
GARDNER, Sarah
2:04:58 / 1
2
59
2:15:17.7
MCCLELLAND, Jane
2:15:17 / 2
Non Binary
1
77
2:02:23.6
RAVICHANDRAN, Kae

2:02:23 / 1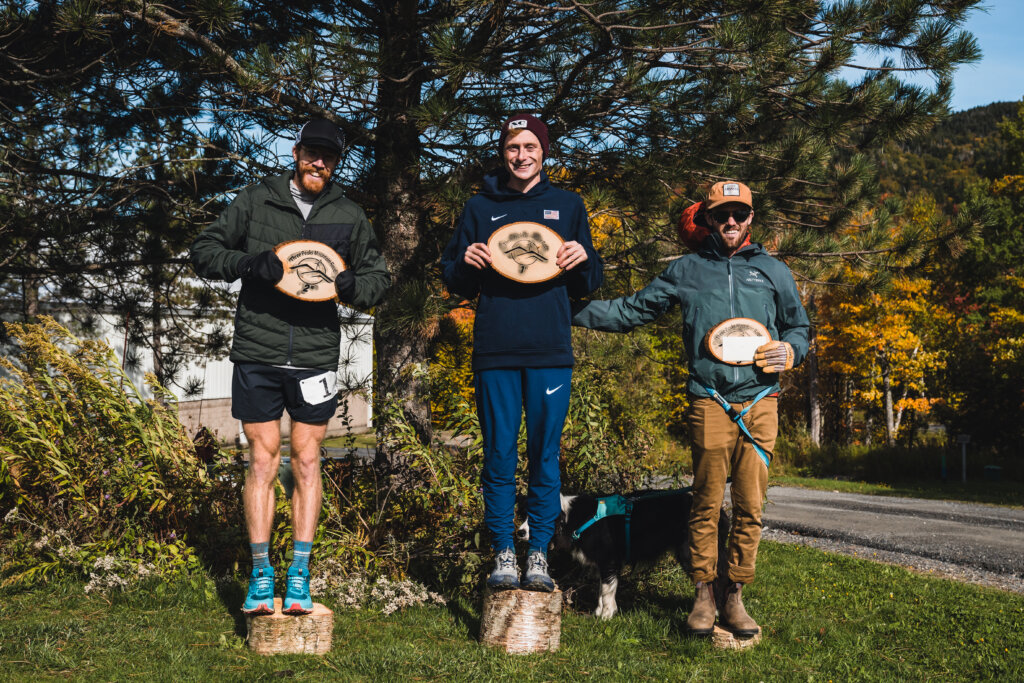 MALE OVERALL
1
3
1:31:28.4
CURTS, Dan
1:31:28 / 1
2
1
1:40:19.4
LIPUMA, Eric
1:40:19 / 2
3
25
1:41:27.8
DICKEY, Ansel
1:41:27 / 3
4
99
1:42:47.3
ZANCHI, Matthew
1:42:47 / 4
5
2
1:45:14.3
HEDGES, David
1:45:14 / 5
6
111
1:46:53.7
DEFNER, Owen
1:46:53 / 6
7
48
1:56:49.7
HUCKINS, Jeremy
1:56:49 / 7
8
58
2:02:27.4
MAZUROWSKI, Jason
2:02:27 / 8
9
17
2:03:17.1
CHO, Aramy
2:03:17 / 9
10
96
2:06:09.2
WOOD, Sam
2:06:09 / 10
11
27
2:06:13.8
DILS, Tom
2:06:13 / 11
12
9
2:08:09.6
BURNHAM, Chris
2:08:09 / 12
13
62
2:08:11.7
MCLAIN, Ricky
2:08:11 / 13
14
54
2:09:35.5
LIPPMAN, Jason
2:09:35 / 14
15
6
2:11:45.8
BALLARD, Michael
2:11:45 / 15
16
82
2:12:48.4
SLAUGHTER, Jacob
2:12:48 / 16
17
100
2:13:50.0
KING, James
2:13:50 / 17
18
51
2:14:10.4
LALONDE, Nathan
2:14:10 / 18
19
79
2:14:29.5
ROLLINS, Josh
2:14:29 / 19
20
12
2:16:15.1
CATALAN, Jamie
2:16:15 / 20
21
46
2:17:02.6
HOLDEN, Jesse
2:17:02 / 21
22
38
2:19:25.5
GIFFORD, Jay
2:19:25 / 22
23
109
2:19:40.0
LEFORCE, Chris
2:19:40 / 23
24
29
2:24:26.0
DOYLE-BURR, Caleb
2:24:26 / 24
25
24
2:24:34.4
DICK, Daniel
2:24:34 / 25
26
55
2:26:38.0
MACDONALD, Derek
2:26:38 / 26
27
36
2:26:49.4
GALVANI, Adam
2:26:49 / 27
28
90
2:33:11.2
TOWER-PIERCE, Finn
2:33:11 / 28
29
78
2:33:13.3
RISI, Eric
2:33:13 / 29
30
89
2:33:18.9
TOWER-PIERCE, Hugh
2:33:18 / 30
31
86
2:33:20.9
SWAIN, Ethan
2:33:20 / 31
32
110
2:33:59.8
DORSEY, Mike
2:33:59 / 32
33
84
2:34:41.7
STAWINSKI, John
2:34:41 / 33
34
71
2:34:52.0
PADGETT, Jeff
2:34:52 / 34
35
104
2:35:26.3
PARRISH, Ethan
2:35:26 / 35
36
42
2:47:05.5
HALNON, Jameson
2:47:05 / 36
37
91
2:49:44.6
TROTTIER, Dan
2:49:44 / 37
38
63
2:50:24.6
MCMORROW, Keenan
2:50:24 / 38
39
87
2:53:35.4
TAYLOR, Chase
2:53:35 / 39
40
19
2:56:22.7
CLAUSSEN, Al
2:56:22 / 40
41
18
2:56:34.9
CLAUSSEN, Aaron
2:56:34 / 41
42
10
2:57:29.1
CALDWELL, Matthew
2:57:29 / 42
43
26
2:58:34.0
DICOVITSKY, Paul
2:58:34 / 43
44
21
3:09:08.5
COUTURE, David
3:09:08 / 44
45
64
3:11:14.2
MERRILL, Joe
3:11:14 / 45
46
20
3:42:00.5
CLUKEY, Brian
3:42:00 / 46