Short answer: YES!
Hey, It's Andrew from the BV marketing squad! While winter is undoubtedly my favorite season at Bolton Valley (duhh), I've been slowly but surely falling in love with summer up on the hill. More specifically, Bolton Valley has become one of my new favorite hiking spots in the Green Mountains.
If you're like me and you've been living in Northern VT for a while, chances are you've hiked Camels Hump, Mansfield, Philo, etc more than a couple times. Ive found hiking at Bolton Valley to be a breath of fresh air for my summertime explorations. Also, having a base elevation of 2000' is a huge plus! While I haven't personally found any scientific evidence to back this up, I have definitely encountered far less ticks at elevation than when I have hiked at sea level.
Another awesome part about hiking at Bolton Valley is the close proximity to both the greater Burlington and Montpelier areas. It takes me just over 30 minutes to get from Winooski to Bolton, which gives me more time to hike. This leads to me getting outside on more days, which is awesome!
Something else that's been really cool for me is seeing the trails in a completely different light. For the past several years, most of my exploring around BV has been done in the wintertime. As I've spent more time up here, I've become quite familiar with some of the trails. It's awesome to see a rock drop that I've hit plenty of times on my snowboard covered in ferns and glistening in the summer twilight. I'm always dreaming up new wintertime lines no matter what season it is!
It really is amazing how lucky we are to live in such a beautiful area, and one of my favorite places to take it all in the Fire Tower at the top of Vista Peak. If you'e never heard of the fire tower I feel like this picture should tell you everything you need to know….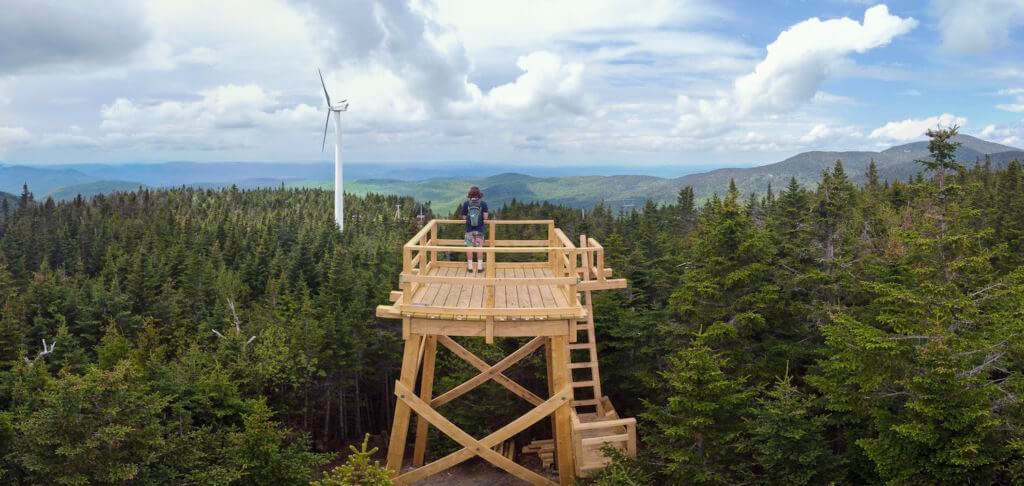 And it's no secret! Check out this map HERE for the exact route, and you'll be up there in no time!
We like to say that there's a little something for everyone at BV, and I believe that this holds true for the summer and winter. Whether you want a quick walk on the work road, a long hike from peak to peak, or even a nice vantage point as you hike The Long Trail (that's right, the long trail actually cuts right through BV!) you'll find it at Bolton Valley. Check out all the other cool stuff that we're doing this summer HERE. There's plenty of space up here!