Blauvelt's Banks 2023
March 11, 2023

-

March 12, 2023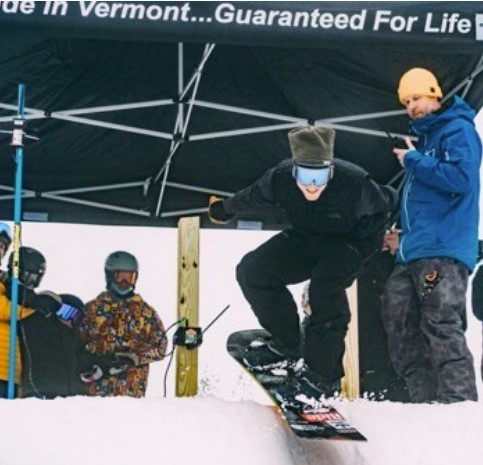 Round 3, ding ding ding!
Save the Date(s):
Saturday, March 11, 2023: Boys/Girls Groms (ages 12 & Under) & Men's/Women's Amateur Categories AND
Sunday, March 12, 2023: Women's Open/Pro, Men's Open/Pro, Women's/Men's Legends (ages 45+), Open Snowskate Categories
Event hosts: Jake Blauvelt, Throwing Star Collective, Supporting Sponsors, & of course little ol' us, Bolton Valley
Location: Timberline Base Area (and newly renovated Base Lodge), conditions permitting
Registration: $75 – proceeds to benefit the Waterbury Skatepark Fund
More details to come, stay tuned and perhaps consider following Jake on Instagram… he often shares the scoop on his event and then we follow suit!
We are so proud to host this incredible event put on by Jake Blauvelt and his team at Throwing Star Collective with support from various tremendous sponsors, including the fine folks behind Darn Tough, Neon Wave and Ride Snowboards. Jake hails from Waterbury, VT and Bolton Valley Resort has been his home mountain since he began riding. As a fourth grader, Jake would unload the school bus with his friends and classmates as a participant in Bolton Valley's afterschool program that continues to this day. Jake continues to thrive in his snowboarding career and simply wants to give back to the sport and community that has given him so much… and we here at BV couldn't be more thrilled about it!
The first 2 years have been absolutely incredible, and this year we're looking to amplify our impact with proceeds on the day going toward the Waterbury Skatepark project, which Jake looks to bring his family to for years to come. A good time for a good cause, as we like to say.
Now, more on the good time!
This year, we're looking to not only broaden our impact on the surrounding community, but also increase participation by expanding this event from a one to two days. AND we're hopeful Mother Nature will cooperate just enough to allow us to hold it at the Timberline Base Area. We just recently completed a beautiful renovation of the Timberline Lodge (now hosting weddings and special events galore) and know that it will make for a great venue on event weekend to care out an even bigger footprint for this, Bolton Valley's marquee event of the 2022-23 winter season. Same format as previous years for the shred fest – 2 runs, fastest time wins – just more shred! And more wiggle room should we need to flex one way or the other due to weather… not that would ever need to happen…
Thank you, Jake Blauvelt. Thank you, Throwing Star Collective. Thank you supporting sponsors. And thank you, sideways shredding community – the vibes you've brought the first two years of this even have completely blown us away.
Who's ready for year 3?
We. Cannot. Wait.
Related Events