Start Your Hike From the Highest Ski Resort Base Elevation in Vermont, Conveniently Located Just 30 Minutes From Burlington and Montpelier
Beautiful Views Await You
Join us for Small Hikes with Big Views or Longer Hikes that Connect to Vermont's Legendary Long Trail.
Either Way, Finish Your Hike With Delicious Food & Drinks at the Resort to Celebrate!
Summer 2020 Bolton Valley Hiking and Trail Running Trail Map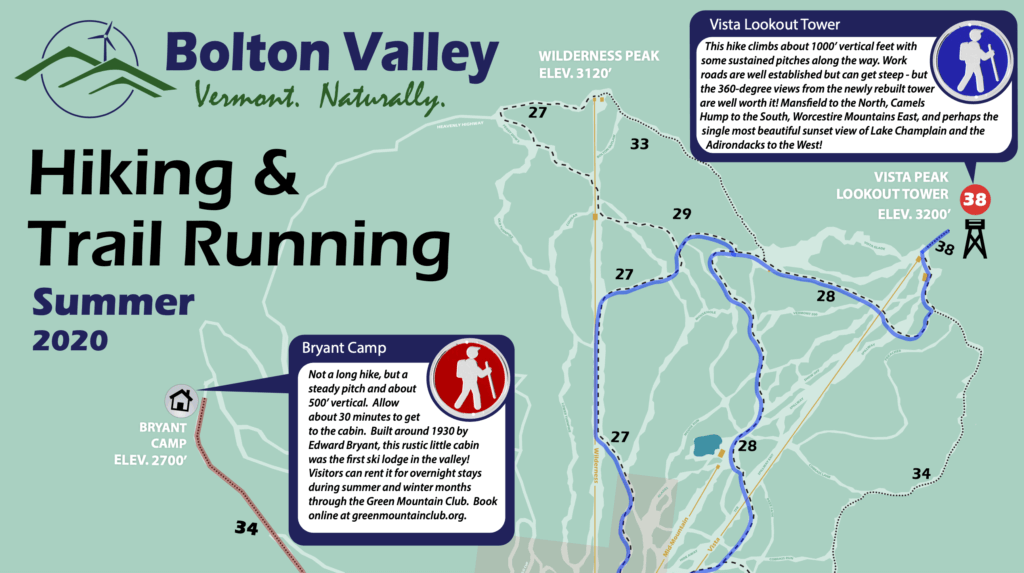 Bolton Valley is situated smack dab in the middle of the highest string of peaks in the Green Mountains, and just a handful of miles due east of the widest part of beautiful Lake Champlain. Our base village is nestled at 2200 feet and surrounded by thousands of acres of pure unadulterated wilderness, and within a 20 mile radius is literally the most and best hiking, mountain biking, and fishing per square mile in the entire state (and arguably, the North East).
PLEASE:
– Leash your dogs
– Pack in, pack out. Help us keep our trails and woods clean!
– Respect state and local health guidelines around social distancing, washing hands often, don't come if you're showing symptoms of the coronavirus or have had contact with others who have and wear a mask when entering any of Bolton Valley's facilities. For current hours/offerings at the resort, go here: Hours of Operation
– Enjoy the views!
May 13, 2020 Hiking Trails Update: Well, it looks like the snow a couple days ago may finally be the last of the season… With these warmer temps and sunshine moving in, we anticipate the remaining snow will melt quickly. Please follow the Green Mountain Club for general trail guidance. Generally they ask that you stay off their trails until at least Memorial Day weekend and that's a pretty good guide for when our first trails are likely to be hikeable, but we'll let you know if it's sooner. First trails will likely gravel packed work roads, which are perfect for early season hiking and may drive out before many other high elevation hikes in the area that offer dirt trails only.
Hiking Map:
We are currently updating our summer trail maps, but here's last year's, which is mostly focused on the biking trail network. We are currently working with the State of Vermont and Green Mountain Club to determine which trails we can add to our map to connect to the Long Trail and old favorite viewpoints adjacent to our property, but on public land. Very excited about this! But in the meantime, may release a map of good hikes on our property that lead to great views as soon as things dry out a bit more. Stay tuned.
Last year's map can be viewed here:
2019 Bolton Valley Mountain Biking, Hiking and 5k Run Loop Map