5 Days a Week Through Labor Day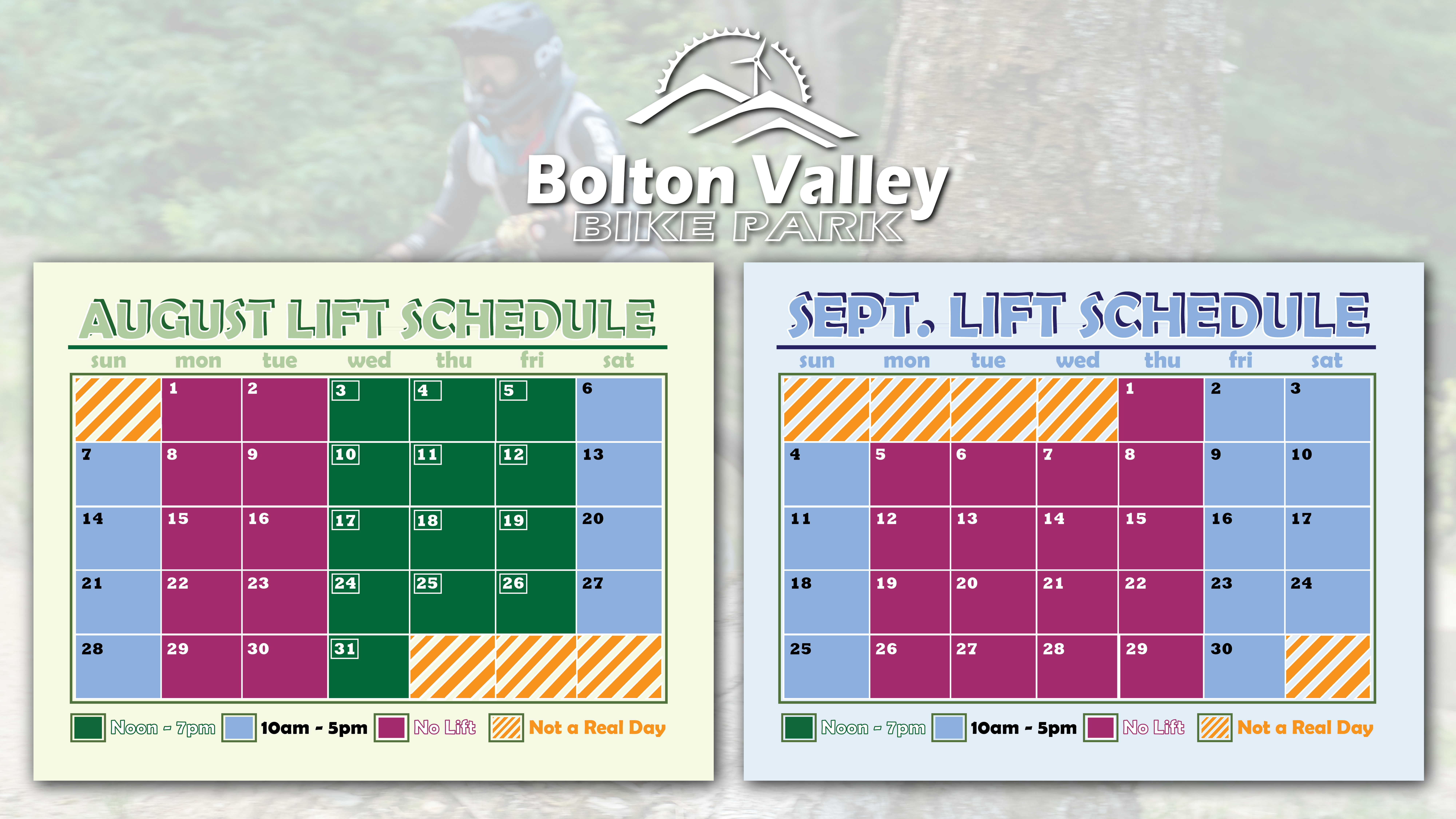 5 Days a Week Through Labor Day
Wed to Fri: Noon to 7pm
Sat & Sun: 10am to 5pm

3 Days a Week After Labor Day Through Fall Foliage Season:
Fri to Sun: 10am to 5pm
Dirt Pass


Any 3 Days of Riding Through Fall For Just $90!*
*Not Transferrable, Must Be Used By One Individual on 3 Unique Days
**Wed to Fri only
Downhill Starter Pack


Everything You Need to Try Out the Sport
Rental, Lesson, Ticket & Helmet/Pads for Just $99 (for Beginners Only)
Scoop Up a Dirt Pass – ANY 3 Days for $90 Buy Now
Mon 8/8
Vista Lift: At rest Monday & Tuesday. Back at it noon on Wednesday.
Open Trails: 24
Most Recently Opened: 1. Outslaw & Coleslaw opened for the season.
2. Top section of Blue Jump trail. Take Ebascootcha from the top and just after making the 180 degree turn at Wilderness Mid Station, you'll be able to drop into the trail head.
2. Little Rock trail (below Ebascootcha green, so basically the bottom straight of trail into the Little Rock Drop).
3. One Love (& One Drop!), & finally
4. the new options off the bottom of Double Down – choose Mercer's Gap (new 35 foot step down at very bottom of Double Down) OR turn left before that for the new "Spur" left exit to bottom of Wright Bros.

Weather: Monday looks mostly like another beautiful day for the most part, but perhaps the rain arrives for the après work pedal crowd… frankly, we need it at this point, been dry up here for a minute… you could hang out down below or come on up for "Feels Like" temps a good 15+ degrees cooler thanks to cooler temps, thinner air, less humidity and nice breezes here at elevation…

It's Cooler Up Here

Deals Galore:
I Like Saving Money and Having Fun

Lessons: Private lessons for all abilities Monday to Thursday and group lessons going out Friday to Sunday.
Bike Rentals: Bikes from Rocky Mountain, Scott & Rossignol for all ages and abilities
Upcoming Events: Live Music on the Lawn, Free 6:30pm Wednesday & Friday all summer long. Upcoming shows: Wed 8/10 Workman Song | Fri 8/12 Lazy Bird
New Outdoor Pool: Kids $10/day, Adults $20/day. Splash Pass (5 days): $75 adults, $35 Kids. Monthly memberships available, too.
Food & Beverage: Now serving breakfast, lunch and dinner 7 days/week in the Base Café (7 days/week 8am-4pm), James Moore Tavern (Wed-Sun nights) and Fireside Flatbread (Mon/Tue nights).
Cremmee Window: Wed & Fri 3-8pm | Sat & Sun Noon-6pm (weather/staffing permitting).
Have you ridden the new top to bottom beginner trail Ebascootcha yet?

Remember, to get "credit" for your weekly enduro series ride, you can ride ANY trail(s).
Just be sure to submit your ride (had from Sunday to Wed at noon) HERE. But if you wanna ride the Featured Trail this week, please remember all climbs start via the Wilderness Work Road. So you'll cut over to the Danger Pond trail head via the Work Road above or below Upper Waterfall. It'll be a mild downhill on the Work Road(s) before coming to the trail head:
Trail Status

Difficulty
Trail
Status
(O = Open,
X = Closed)
NEW TRAIL

Ebascootcha
O
Vista Glades
O
Broken Bridge
O
Blue Jump Trail
O
(Upper & Lower section of this trail are open – the middle section is currently under construction)
Wright Brothers
O
Work Road – Climbing Route and Downhill
PLEASE USE EXTRA CAUTION ON WORK ROADS!
Multi Use Route For Mountain Ops, Hikers, Uphill Pedaling AND Downhill Mountain Biking. ALWAYS Yield to Mountain Ops Personnel and Machinery – Thank You!
Spillway Chute
O
Hard Luck Chute
O
Hydra
O
Little Rock
Top (from Hydra) X

Bottom Straight to Lil' Rock Drop O
Boulder Gap
O
Danger Pond
O
Sleepy Hollow
X
Enchanted Forest
O
Power Lines
O
Bottom Out
O
Waterfall

Upper Waterfall O
Lower Waterfall x
Ledges
X
Lavigne's
O
Race Course
O
OO
(Pronounced "Double Aught")
O
Upper Double Down
O
Lower Double Down
(new optional entrance at Wilderness mid station "Spur" – take Ebascootcha right to it)
O
One Love
O
Coleslaw
O
Outlaw
X
Outslaw
O
Base Lounge Bike Shop is open for business and has a lot of downhill bike gear that's hard to find around these parts these days. Come through and check it out.

Friendly reminders:
Pedal access is included with all our MTB Season Passes (on sale now) starting from $100
OR
You can purchase a single day pedal/trail ticket (no lift access included) for $25 per day
Know your limits and stay within them!
A few friendly reminders:

Friendly Reminder: All mountain bike climbs occur on Work Road. No climbing the mountain bike trails – they are for downhill (bike) travel ONLY! Thank you.
– Sorry, no dogs in the Bike Park (Wilderness or Vista Terrain basically)
– Please respect all signage, trail closures and yield to all mountain operations personnel and machinery.
– Lifts can stop and start at any time. No standing on lift unload area decks OR climbing the lift towers at any time for any reason.

– The trails on Vista and Wilderness terrain are for intermediate and advanced riders only at this time. We look very forward to building 7+ miles of new green/blue flow trails with Gravity Logic in the years to come, but our most beginner friendly trails can be found down by the Sports Center (see map below – "Progression Zone" and neighboring trails)
– With a purchase of a Bolton Valley lift ticket you adhere to all signs, notices about protected lands and restoration sites, and to staying on trail at all times.
– The ONLY way to start your climb to mountain bike is via the Wilderness RFID gate and Wilderness Work Road. No other uphill routes currently permitted.
– Please use caution and Pre Ride, Re Ride, Free Ride. Please ride with extra caution as there are definitely areas of "sudden slickness" throughout our trails this time of year.

Please abide by all trail and mountain signage, but see trail report below for open/close trail status as of last report.

Bike Park Trails
Mountain Bike Trail Map
Trail Preview Videos
Racecourse (2020 Trail Preview with Lindsay, Corrine & Rosy | 2019 Trail Preview with Sarah & Adam)
Hydra (Trail Preview with Sarah & Adam)
Lavigne's Connector (Trail Preview with Lindsay, Corrine & Rosy)
Bottom Out (Trail Preview with Sarah & Adam)
Enchanted Forest (2019 Trail Preview w Rosy & Clair | 2020 Trail Preview with summer campers)
Danger Pond (Trail Preview with Sarah & Adam)
1 Love (Trail Preview with OGE Enduro Race Team + Adam Morse)
Lavigne's – (Trail Preview with Lindsay, Corrine & Rosy)
Double Down (Trail Preview with Mack & Greg | 2019 Trail Preview with Sarah & Adam – before the fresh trail work)
00 (Trail Preview with Elliot, Tim & Mack) – Trail is pronounced "Double Aught"
Camp Loop (Trail Preview with our summer campers & Nick, Dir. of Guest Experience)
Boulder Gap (Trail Preview with summer campers)
Camp Ride (Trail Preview with our summer campers & Nick, Dir. of Guest Experience)
Progression Zone (Trail Preview with our summer campers & Nick, Dir. of Guest Experience)