All Mountain Bike Trails are CLOSED for the Season.
Thank you to everyone that's come out and supported us all season long and thank you to our incredible staff who have worked so hard to provide the best conditions and guest experience for our beloved guests.
2023 Bike Park Park Season Passes are on sale now
$299 Adults | $199 Youth (17 & Under) | $100 Pedal Only (All Ages)
Lock in the lowest price now!
Have you ridden our new Gravity Logic built flow trails yet? We've got a 3.5 mile long top-to-bottom beginner flow trail called Ebascootcha, that's great for all ages and abilities. And for those that like to fly, we're super excited about our new blue jump trail, Bluebird. You can take Ebascootcha right to the trail head and ride all the way back down to the lift… surrender to the flow, yo.

Trail Status

Difficulty
Trail
Status
(O = Open,
X = Closed)
Ebascootcha
X
Vista Glades
X
Broken Bridge
X
Bluebird
(formerly known as Blue Jump, but alas, the people have spoken)
X
Wright Brothers
X
Work Road – Climbing Route and Downhill
PLEASE USE EXTRA CAUTION ON WORK ROADS!
Multi Use Route For Mountain Ops, Hikers, Uphill Pedaling AND Downhill Mountain Biking. ALWAYS Yield to Mountain Ops Personnel and Machinery – Thank You!
Spillway Chute
X
Hard Luck Chute
X
Hydra
X
Little Rock
Top (from Hydra) X
Bottom Straight to Lil' Rock Drop X
Boulder Gap
X
Danger Pond
X
Sleepy Hollow
X
Enchanted Forest
X
Power Lines
X
Bottom Out
X
Waterfall

Upper Waterfall X
Lower Waterfall x
Ledges
(including the middle section that was temporarily closed)
X
Lavigne's
X
Race Course
X
OO
(Pronounced "Double Aught")
X
Upper Double Down
(new optional entrance at Wilderness mid station "Spur" – take Ebascootcha right to it)
X
Lower Double Down
X
One Love
X
Coleslaw
X
Outlaw
X
Outslaw
X
Pedal access is included with all our MTB Season Passes (on sale now) starting from $100
OR
You can purchase a single day pedal/trail ticket (no lift access included) for $25 per day
Know your limits and stay within them!
A few friendly reminders:

Friendly Reminder: All mountain bike climbs occur on Work Road. No climbing the mountain bike trails – they are for downhill (bike) travel ONLY! Thank you.
– Sorry, no dogs in the Bike Park (Wilderness or Vista Terrain basically)
– Please respect all signage, trail closures and yield to all mountain operations personnel and machinery.
– Lifts can stop and start at any time. No standing on lift unload area decks OR climbing the lift towers at any time for any reason.
– With a purchase of a Bolton Valley lift ticket you adhere to all signs, notices about protected lands and restoration sites, and to staying on trail at all times.
– The ONLY way to start your climb to mountain bike is via the Wilderness RFID gate and Wilderness Work Road. No other uphill routes currently permitted.
– Please use caution and Pre Ride, Re Ride, Free Ride. Please ride with extra caution as there are definitely areas of "sudden slickness" throughout our trails this time of year.

Please abide by all trail and mountain signage, but see trail report below for open/close trail status as of last report.

Bike Park Trails
Mountain Bike Trail Map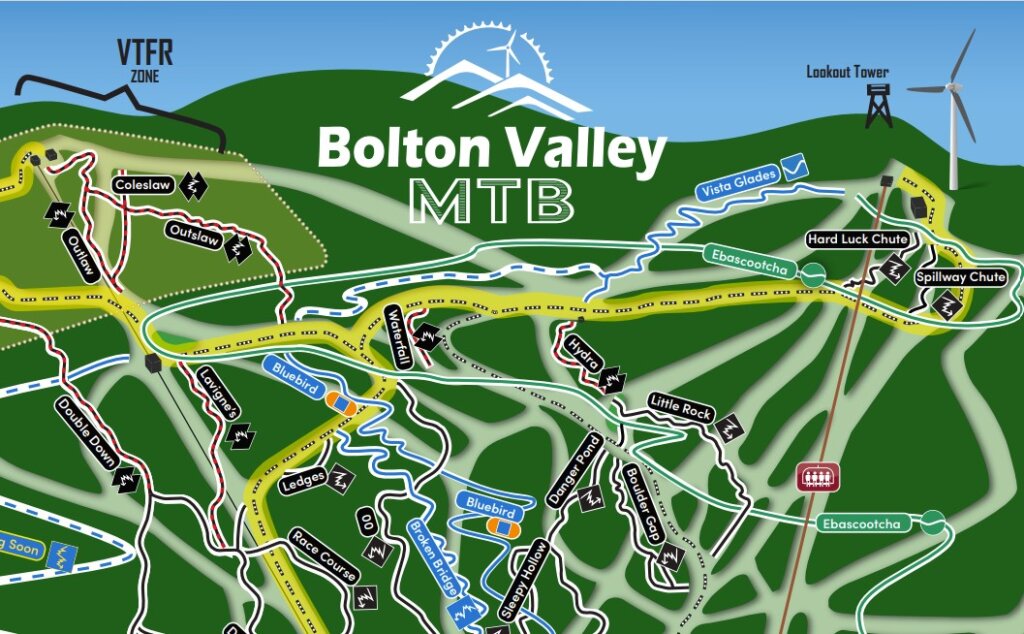 Trail Preview Videos
Racecourse (2020 Trail Preview with Lindsay, Corrine & Rosy | 2019 Trail Preview with Sarah & Adam)
Hydra (Trail Preview with Sarah & Adam)
Lavigne's Connector (Trail Preview with Lindsay, Corrine & Rosy)
Bottom Out (Trail Preview with Sarah & Adam)
Enchanted Forest (2019 Trail Preview w Rosy & Clair | 2020 Trail Preview with summer campers)
Danger Pond (Trail Preview with Sarah & Adam)
1 Love (Trail Preview with OGE Enduro Race Team + Adam Morse)
Lavigne's – (Trail Preview with Lindsay, Corrine & Rosy)
Double Down (Trail Preview with Mack & Greg | 2019 Trail Preview with Sarah & Adam – before the fresh trail work)
00 (Trail Preview with Elliot, Tim & Mack) – Trail is pronounced "Double Aught"
Camp Loop (Trail Preview with our summer campers & Nick, Dir. of Guest Experience)
Boulder Gap (Trail Preview with summer campers)
Camp Ride (Trail Preview with our summer campers & Nick, Dir. of Guest Experience)
Progression Zone (Trail Preview with our summer campers & Nick, Dir. of Guest Experience)