Thank you for an incredible Mountain Biking Season! The MTB Trails are officially closed for the season. Can't wait to show you what we have in store for you next year! Stay tuned…
Bolton Valley is home to a growing system of raw, rowdy, and ripping mountain bike trails that will give you the chance to test your skills and nerve, or just a great opportunity to practice and improve your skills.
26 Downhill Trails
1 Downhill & Climbing Trail (Intermediate)
2 Loop Trails (1 Beginner and 1 Intermediate)
1 Progression/Skills Practice Area (Beginner and Intermediate Features)
1 Pumptrack (Coming Soon)
Bikers are also invited to use the various work roads around Bolton Valley. Work roads offer alternative uphill routes to access the downhill trails, as well as additional approachable downhill routes in themselves. When utilizing these routes, we do ask bikers to watch out for hikers, runners, and maintenance vehicles.
If that wasn't enough, e-bikes are allowed on all of the mountain biking trails, with uphill travel on work roads only. If you've never tried e-bikes, keep an eye on our events calendar for upcoming demo days.
Trail Map
Click on the image below to view our full-sized Mountain Biking trail map.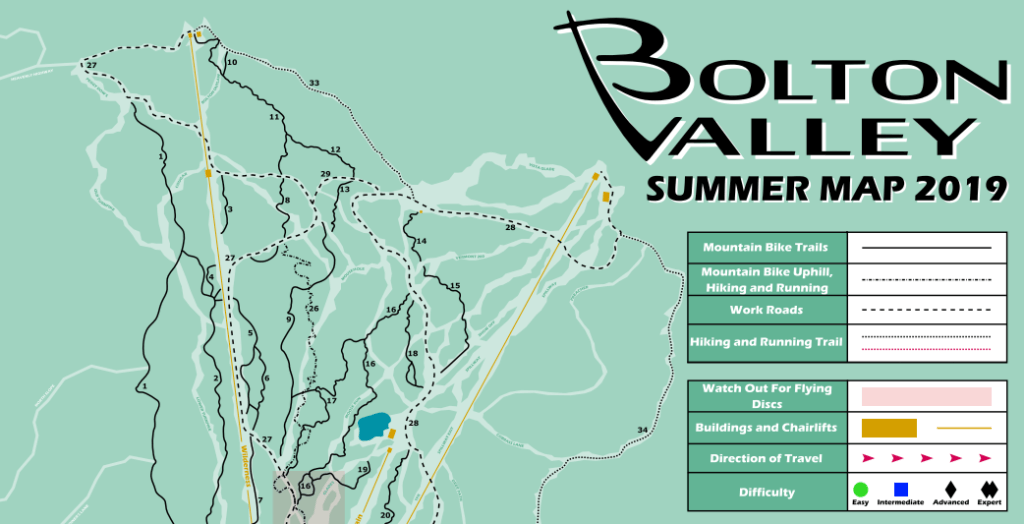 Some of our favorite MTB videos from this season
From the Bolton Valley Blog