Wilderness Designated Uphill Route is OPEN
Caution: thin cover! Intermediate to advanced skiers/riders only. You'll probably want skis/boards you don't mind grinding on the occasional rock…
Timberline Designated Uphill Route is Currently CLOSED
Uphill access NEVER permitted to the top of Vista Peak. Dogs NEVER permitted on downhill ski or bike trails. Snowshoes NEVER permitted within Alpine ski resort – including the designated uphill routes. Thank you.
Wednesay: Nearly 2 feet of freshies since Sunday afternoon – need we say more? That said, it's still early season here and the tide is relatively low. You might want your rock skis at it's nice "adventure skiing" off of Wilderness for ADVANCED SKIERS/RIDERS ONLY. Beware of rocks, stumps, water bars, grass, gravel and other early season thin cover natural hazards. Use appropriate caution and enjoy the adventure! Must have valid NBU ticket or season pass – if you have a season pass, come on by the Sports Center or Ticket Cube for your orange velcro strap so our ticket checkers can quickly see you're good to go via visual inspection (wear on arm, poles or bag as you see fit). If buying and NBU ticket for a specific day, we're going with some of our old school ticket stock for that so you can dangle from your coat like the good ol' days. Can get at Ticket Cube or Sports Center during operating hours or show your proof of online purchase screenshot on your phone to ticket checkers if you're going when those outlets aren't open. See current operating hours HERE.
Buy NBU Ticket HERE ($20 midweek | $25 weekends)
Shop NBU Season Passes HERE
Options: NBU Midweek ($199 + tax)
NBU Unrestricted ($299 + tax)
NBU + Nights ($399 + tax) – any time NBU trail access + Night lift service (Tue to Sat 4-10pm under our LED lights)

If you're interested in leasing some equipment form us for the season, we got you! Sales/fittings are first come first served in the Sports Center today through Sunday. More info HERE.

IF/WHEN we open up trail access prior to lifts opening (lifts targeted opening day is Friday, November 24), a friendly reminder from our Uphill Policy below: Ski Patrol is not available and will not respond unless the lifts are operating and open to the public. Call 911 in case of Emergency. Carry a fully charged cell phone and know your specific location, including trail names. Practice "check-in" texts or calls with a friend at the start and finish of your outings. Be aware that cell phone service is inconsistent in the mountain environment, and cold temperatures reduce battery life.
Wilderness Uphill Route is ALWAYS CLOSED on

:
Sat-Sun: 5am-9am
Sun-Thu: 10pm-1am



Timberline Uphill Route is ALWAYS CLOSED on

:
Fri & Mon: 5am-9am
Fri & Sat: 10pm-1am



Uphill route is at your own risk, please use caution and know your ability.
Check Out The Latest Bolton Backcountry Trip Reports HERE
And a recording of our Uphill Community Forum Webinar Feb 7, 2022 with President Lindsay, Backcountry Director Adam, and Patrol Director Kaitlyn HERE
All uphill traffic on the mountain must have a valid ticket or pass – Buy/Reload NBU Tickets HERE
We have 2

Designated Uphill Routes

– one off Timberline and one off Wilderness (in green here):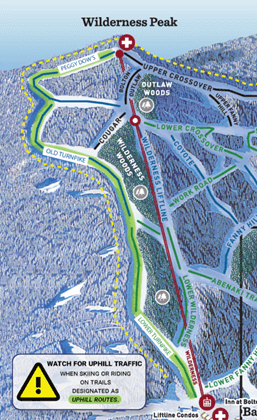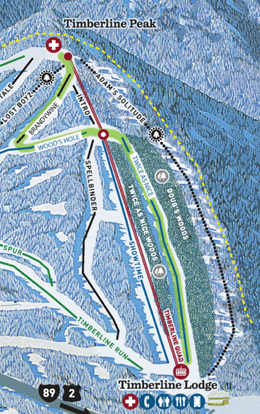 Bolton Valley Uphill Policy Winter 2022-2023
1. Please put your skins on and start skiing before you reach the Wilderness Lift shack. There's a nice clearing just below there (next to Ski Patrol) which is a great place to get geared up and start your climb. Thank you!
2. Weekly closure schedule includes no dawn patrol at Wilderness on weekends (and Timberline restricted Friday and Monday mornings).
3. All uphill traffic – at all times – requires a day ticket or season pass.  Tickets will be available 24/7 on our website BoltonValley.com when NBU terrain is "open."
4. Ski Patrol is not available and will not respond unless the lifts are operating and open to the public. Call 911 in case of Emergency. Carry a fully charged cell phone and know your specific location, including trail names. Practice "check-in" texts or calls with a friend at the start and finish of your outings. Be aware that cell phone service is inconsistent in the mountain environment, and cold temperatures reduce battery life.
5. Uphill travel on alpine trails is confined to designated uphill routes only and limited to skinning and touring only. Snowshoes and foot traffic are not allowed on alpine trails, as well as dogs are NOT ALLOWED.  Snowshoes are permitted on all Nordic and Backcountry terrain and trails, but boot packing and foot traffic are not allowed on any trails or backcountry zone.
The Following indicates weekly CLOSURES
Wilderness Uphill Route is CLOSED: Sat/Sun 5am-9am AND Sun/Mon/Thu/Fri 10pm-1am
Timberline Uphill Route is CLOSED: Fri/Mon/Tue 5am-9am AND Thu/Fri/Sat 10pm-1am
| | | | | | | | |
| --- | --- | --- | --- | --- | --- | --- | --- |
| | Monday | Tuesday | Wednesday | Thursday | Friday | Saturday | Sunday |
| Wilderness | 10pm-1am | | | 10pm-1am | 10pm-1am | 5am-9am | 5am-9am & 10pm-1am |
| Timberline | 5am-9am | 5am-9am | | 10pm-1am | 5am-9am & 10pm-1am | 10pm-1am | |
These uphill routes can be closed at any time. Please be aware of signage and always check the snow reports for information regarding closures.
We encourage skiers and riders to explore uphill touring on familiar terrain. Our Backcountry Center has a full fleet of splitboards and alpine touring equipment for rent, as well as introductory clinics and group tours. Private backcountry instruction and guide services are also available on request and are highly recommended when venturing out of marked zones and beyond ski area boundaries. Check out our Backcountry Suggested Gear Guide here, while you're at it.
Rules
Please read and follow these simple rules to keep uphill touring safe and fun for everybody:
Even during off-hours, there are still operations happening. You may encounter mountain machinery at any time.  
Stay off trails that are currently being groomed or have snowmaking equipment in operation. When encountering mountain operations staff and vehicles, please move out of the way, stay visible and collected as a group, and stop any uphill or downhill movement until they pass by. 
It is EXTREMELY IMPORTANT for you and your fellow uphillers tour in a single file line. Snowcats and our mountain operation crew work early mornings and late nights which means they will be on trails with motorized vehicles that might encounter your group. If this does happy please, move out of the way so they may pass by you and your fellow uphillers safely.
Ski Area Closed for the Season.ear bright colored or reflective gear and use a light. This will help the mountain operations crew to see you and for you to keep track of each other. Also, be mindful of your surroundings. You need to be able to hear! Inner ear headphones are not appropriate when traveling uphill on our alpine / lift serviced terrain. When you hear snowcats and/or snow machines approaching, please cede the right of way and respect our mountain operations personnel. This may seem like common sense, but it is not nearly common enough, unfortunately. Please keep your eyes and ears active when transitioning at the bottom or top of your run within the Wilderness and Timberline Alpine Lift Loading and Unloading areas in particular, even if the lift isn't currently spinning. Essentially, you are probably on a Work Road that our Mountain Ops frequently pass through, no matter the time of day or day of the week.
Have a plan, and everyone sticks to it. Skiing together helps you keep track of each other on the way down and will help our staff to see you. Share your plan with someone outside your party and communicate with them when you return.
No Dogs – Dogs are not allowed on the mountain.  We love our furry friends, but please leave them at home; dogs pose a safety risk to you, themselves, other guests, and the mountain operations crew.   
Ski and snowboarding terrain with grooming, snowmaking and other mountain operations in progress is not compatible with sledding.
There will be times when uphill routes are closed due to weather conditions or other reasons.  Do not seek an alternate route, consider the mountain closed to uphill traffic. Please check the Bolton Valley website snow report before proceeding and heed all posted closings, warnings, and other comments. 
Snowmaking equipment poses serious hazards, especially in the dark. Snow may be wet and heavy and may be inconsistent between guns. Hoses stretch between guns and across skiing terrain. DO NOT ski over any hoses, lines, or equipment. These hoses contain high -pressure water and electricity and any contact with them is extremely dangerous. 
Please remove all trash and personal items. Leave the mountain environment as you found it or better.  For more information, please visit Leave No Trace's website 
Respect the mountain buildings, lifts, and other Bolton Valley structures.
Respect any BV staff you encounter and consider them as voices of authority. Follow any instructions or warnings they may give.  
Vermont Law provides that you are liable for all expenses from search and rescue efforts beyond the ski-area boundary. 
WARNING:
SNOWMAKING EQUIPMENT, WATER/POWER LINES, SNOWCATS, SNOW MACHINES, MOUNTAIN EQUIPMENT AND OTHER HAZARDS CAN BE ENCOUNTERED ANYWHERE AT ANYTIME ON THE MOUNTAIN, IN ANY SEASON. PLEASE USE EXTREME CAUTION WHEN ON THE MOUNTAIN. ALWAYS DISPLAY A LIGHT AND WEAR REFLECTIVE CLOTHING.
WHEN ENCOUNTERING MOUNTAIN OPERATIONS STAFF AND VEHICLES, PLEASE MOVE OUT OF THE WAY AND STOP ANY UPHILL OR DOWNHILL MOVEMENT UNTIL THEY PASS BY.
PLEASE USE EXTREME CAUTION ON THE MOUNTAIN. NO RESCUE SERVICES OR TERRAIN MANAGEMENT CAN BE EXPECTED OUTSIDE THE CURRENTLY OPEN NORDIC OR LIFT SERVICED TERRAIN.
During lift serviced hours, call (802) 434-6823. If there is no response call 911
Please respect this beautiful place and enjoy your time on the mountain!