Congratulations, Team Gnarl, for ascending back to your throne and Team Beer and Misfits for rounding out the podium in what was a hotly contested battle for positions 2-4 right up to the end.
And to all teams that joined us this year – thank you! It really was a great season, from our perspective.
2022 Final Results: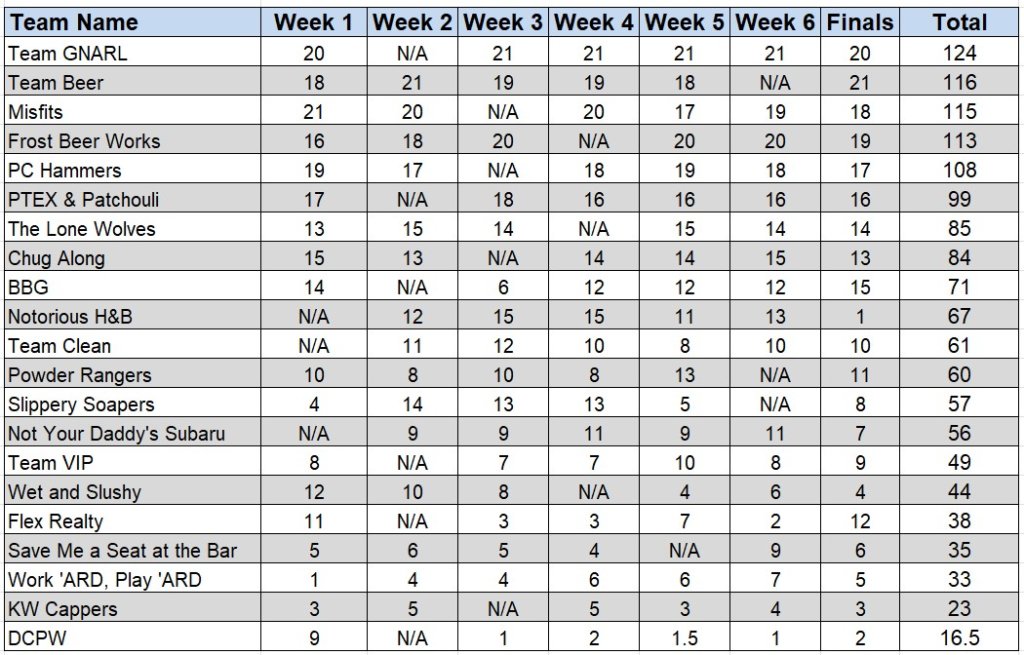 Week By Week Results
There are 3 Tabs on each of the week by week results sheets:
1. Team Scores
2. Individual Results
3. Team Detail Scores
Finals Week Results
Week 6 FINAL Results
Week 5 FINAL Results
Week 4 FINAL Results
Week 3 FINAL Results
Week 2 FINAL Results
Week 1 FINAL Results

Must have valid ticket or pass to race.
2022 Schedule
Race Week
Wave 1
6:30-7pm
Wave 2
7-7:30pm
January 6
Captain's Meeting & Practice
January 13
Race Week 1
See Above
See Above
January 20
Race Week 2
See Above
See Above
January 27
Race Week 3
See Above
See Above
February 3
Cancelled
See Above
See Above
February 10
NEW Race Week 4
See
Above
See
Above
February 17

Cancelled




(moved to next week)

See Above
See Above
February 24
New Race Week 5
See Above
See Above
March 3
Race Week 6
See Above
See Above
March 10
Finals Week
If You've Registered, But Not Yet Paid For Yourself or Your Team, Please Do So Online

—> Pay Here

Rules & Regulations:
1. Top 4 individual times on each team each week are counted toward team total. If there isn't at least one racer of a non-male gender in the top 4, the team suffers a penalty that week (basically we take the slowest finishing racer's time and add 10 seconds and add that as your 4th team time for that week).
2. All substitutions MUST be submitted by Tuesday at noon before that Thursday's race. No last minute subs. In fact, this year you will simply fill out and submit an online form with all the requested info as needed.
3. After each race, "handicapped" race results will be posted to this site by noon on Friday the day after racing.
4. All protests are due by noon the following Monday, before results are posted as FINAL by Wednesday morning.
5. Handicap Adjustment Chart: Available Here
6. Weather permitting, we'll have 7 weeks of racing – however many weeks we pull off, your team's worst placing week gets dropped. Finals week is worth the same points as any other week, BUT is ALWAYS included in final race results and NEVER dropped as your worst week.
7. Every racer will need a valid ticket or pass. There are no discounted tickets for Corporate Race League. If a ticket is needed, buy online before the day of racing for $25 ($5 for a new RFID card you can reload after initial purchase if you don't have an old card) and $29 day of.

PLEASE NOTE – we will look to do something for finals week, but it will not include a catered dinner (in the cost of your registration) this season, thought we will of course have delicious food offerings finals week just like every other! Our costs across the resort have gone up substantially (labor, diesel fuel for grooming, food, etc) and we figured instead of boosting registration by an appropriate margin to capture the normal expenses associated with our weekly raffles and catered finals dinner, we'd instead just do a more conservative awards/raffle weekly and nix the catered dinner on finals week altogether.

We're not really sure what the gathering will look after races at this week at this point as the COVID coaster remains pretty fluid as of mid December, so we'll just go with the flow. But our current plan is to host you in the Fireside Dining Room again as we have in years past. Any way you slice it, what we do know is we couldn't stand the thought of not doing this again this year, we just missed you all too much! So whatever form the post race gathering takes, we can't wait to see you!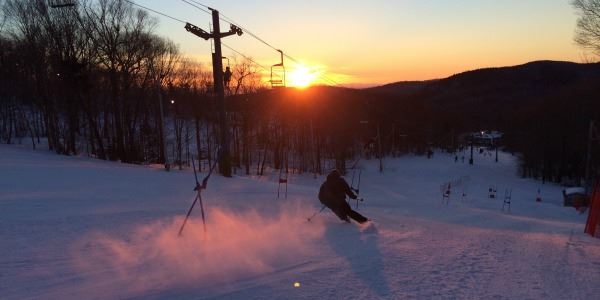 Oh, Winter 2019-20, My How The World Has Changed…
Recapping "Last" Season
The 2019-20 Corporate Race League Season That Was:
(there was no 2020-21 CRL season)
A new champion emerges…
Congratulations to Team Misfits your 2019-20 Beer League Champion!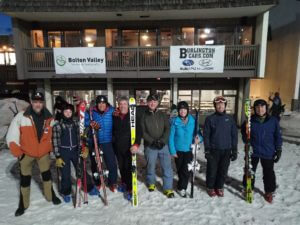 It was quite a year… 22 teams "competing," for the podium, but in the end it was really a 3 horse race. Defending champions (and MANY time champion over the years) Teams Gnarl found themselves neck and neck all season long with the Misfits and Team Beer was right there nipping at their heals if either should falter. Once the worst weeks were dropped heading into the finals on March 12, we had ourselves a tie for the top spot, so it would all come down to that final night… and oh, what a night! By the very slimmest of margins, Team Misfits eeked out the victory with a team time of 74.36 while Team Gnarl was just a half second behind with a 74.90. Doesn't get a whole lot closer than that, folks.
We hope you all had as good a time as we did and a big thank you to the tremendous team of race timers, course setters and "gate keepers" that put in all the hours week in and week out to make this thing happen. Not to mention the delicious wood-fired pizza everyone seemed to enjoy all season long… we'll see you next year!
| | | |
| --- | --- | --- |
| Team Name | Finals | Total |
| Misfits | 21 | 149 |
| Team Gnarl | 20 | 148 |
| Beer | 19 | 144 |
| PC Hammers | 22 | 135 |
| FROST 2 | 18 | 130 |
| FROST 1 | 16 | 120 |
| Ptex & Patchouli | 17 | 115 |
| Husky Hooligans | 15 | 103 |
| Notorious H&B | 14 | 97 |
| Team Clean | 10 | 79 |
| In It For The Apres | 9 | 75 |
| Chug Along | 7 | 74 |
| KW Cappers | 13 | 68 |
| PFC Slip and Fall | 8 | 60 |
| TC Frozen Suds | 3 | 57 |
| WORK 'ARD PLAY 'ARD | 6 | 53 |
| Wild Things | 12 | 51 |
| DCPW | 2 | 50 |
| Save Me a Seat at the Bar | 5 | 45 |
| Flex Realty | 1 | 43 |
| Debbie Downhillers | 4 | 38 |
| Frost Drillers | 11 | 31 |