Jan 14 Update:

Thanks for a really smooth Week 1 everyone. Even though that went surprisingly well last night (from our perspective), it typically only gets smoother and more efficient as the season goes on. But we really appreciate everyone remembering their bib numbers and general patience and positive attitude. It was so nice to see so many familiar faces back in the starting gate, but also how many hands went up at the raffle on the deck that this was their first time ever racing gates. That's what this is all about – a good time for all and perhaps a little friendly competition along the way.

Looking at results for Week 1, as much as the world has changed the last 22 months, it's somewhat reassuring to see that some things stay relatively the same.

Download results below to view the details. Spreadsheet includes 3 tabs:
1. Week 1 Team Results – Team scores for both the week and week by week tracking through the season
2. Week 1 Individual Results
3. Week 1 "Team Detail" Report – Team details scores. Top 4 times for any team "count" for your team – but must include 1 from each gender. Don't have an "opposite gender" score on the week? Pretty stiff penalty – per the the rules and regulations below – but don't worry, we toss out your worst week at the end of the season, but that can't be Finals Week – that one counts for everyone no matter what

Download the Spreadsheet with All 3 Tabs

Please double check your handicaps and that everything looks about right. "Protests" are due by Monday at noon – just email [email protected]

| | | | | |
| --- | --- | --- | --- | --- |
| 2022 | 2020 | Team Name | Total Time | Points |
| 1 | 1 | Misfits | 74.14 | 21 |
| 2 | 2 | Team GNARL | 74.43 | 20 |
| 3 | 4 | PC Hammers | 74.84 | 19 |
| 4 | 3 | Team Beer | 75.03 | 18 |
| 5 | 7 | PTEX & Patchouli | 75.29 | 17 |
| 6 | 5 | Frost Beer Works | 76.53 | 16 |
| 7 | 12 | Chug Along | 87.22 | 15 |
| 8 | NA | BBG | 87.57 | 14 |
| 9 | NA | The Lone Wolves | 90.26 | 13 |
| 10 | NA | Wet and Slushy | 93.99 | 12 |
| 11 | 20 | Flex Realty | 95.82 | 11 |
| 12 | NA | Powder Rangers | 96.07 | 10 |
| 13 | 18 | DCPW | 98.99 | 9 |
| 14 | NA | Team VIP | 99.26 | 8 |
| 15 | NA | Not Your Daddy's Subaru | 99.47 | 7 |
| 16 | 9 | Notorious H&B | 99.55 | 6 |
| 17 | 19 | Save Me a Seat at the Bar | 102.58 | 5 |
| 18 | 15 | Slippery Soapers | 102.59 | 4 |
| 19 | 13 | KW Cappers | 108.92 | 3 |
| 20 | 10 | Team Clean | 109.58 | 2 |
| 21 | 16 | Work 'ARD, Play 'ARD | 128.80 | 1 |
Substitution Requests for Week 2 (Jan 20) Due by Noon on Tuesday, Jan 18:
Substitution Request Form
Must have valid ticket or pass to race.
We are offering a Corporate Race League Night Pass to folks on a roster for the same price as it was last March ($199 + tax + $5 if you need a new RFID Card). You can buy it at Ticket Cube or by phone (802) 434-3444. It is valid from 4-10pm Tuesday to Saturday with no restricted dates – definitely the way to go.
Night Tickets are $25 if bought online here in advance and $29 day of at the ticket cube.

If your team was Wave 1 (6:30-7) week 1 it will be Wave 2 (7-7:30) week 2 – and vice versa.
Racing in Wave One (7-7:30) Week 2

:
–

Team Gnarl

(2nd place 2020, Champion many years running before that)
–

PC Hammers

(always putting the hammer down – 4th place in a very strong field in 2020 – will they make the podium this year?)
–

PTEX & Patchouli

(not generally on the podium, but always in the mix for "best of the rest," and rumor has it they make a mean PB&J)
–

DCPW

(aka Casella, don't take them lightly, or they may waste you… on the course and at the curb!
–

Powder Rangers

(new to CRL this year?)
–

Save Me a Seat at the Bar

(they're really good at après)
–

Flex Realty

(they've appraised this week's course – congratulations, it looks like the loan's going to go through!)
–

Chug Along

(solid expectation setters this team is aptly named, finished right around the middle of the pack a couple years back)
–

Team VIP

(please, if you're waiting in line to race and a member of Team VIP approaches, please step aside and let them through)
–
Frost Beer Works

(yummy! Is this their year? In 2020 their teams finished 4th and 5h and now they've combined into one super team – watch out!)
–

Lone Wolves

(most of these dogs registered as individuals… Bolton Valley will scramble to back fill their squad when they have racers that can't do any given week – who knows how this one will pan out? But let's face it, last season's champion started the same way)



Racing in Wave Two (6:30-7pm) Week 2

:
–

Misfits

(all hail the returning Champions from the 2020 season, our last season as we skipped last year – perhaps one of the better stories in CRL history as they banded together as a group of individuals, like this year's Lone Wolves, and found racing glory together)
–

Team Beer

(although one would assume they enjoy the apres scene, given their team name, don't sleep on this squad – they rounded out the podium last season)
–

BBG

(formerly known as Shake 'n Bake… if you're not first, you're last)
–

Wet and Slushy

(new to CRL this year (?), we hope they'll be comfortable on a firmer, well groomed surface)
–

Not Your Daddy's Subaru

(if Travis Pastrana's rally car has a drop in performance in the coming months, perhaps the apres scene at Corporate Race League will be able to take some credit – these speed demons are good with a motor, let's see what happens when they trade in horsepower for human-power)
–

Notorious H&B

(as in Hickock & Boardman, their appraisal came in a little higher than Flex Realty's and they think they can get you a loan where you might even be able to get a loan big enough to renovate that dated kitchen immediately upon move-in)
– Team Clean (our dear friends from 7th Generation are back… they've developed a natural coating for the bottom of their sliding devices that not only helps them go faster, but also leaves the snow looking a magnificently brilliant bright white – patent pending)
–

Work 'ARD, Play 'ARD

(Tetra Tech takes a break from solving the world's problems to have a little fun on the slopes – and don't we all deserve it?!??!)
–

KW Cappers

(Keller Williams rounds out our realtor representation at Corporate Race League – perhaps we need a little "Realtors Podium" this year as all 3 of these teams finished somewhat similarly a couple years back)
– Slippery Soapers (the Twincraft crew brings their soap to the slopes! Some of the cleanest lines you'll ever see from this slalom team)





Live Timing

– If you'd like to follow along live Thursday night on your phones to see raw timing as it rolls in, you can do so here: https://www.live-timing.com/race2.php?r=225950
Bear in mind, the racing team is moving fast out there and sometimes takes notes if they think they might have made a mistake in real time (like assigning wrong time to wrong racer, for instance). Please leave them alone during timing, but if you think something's wrong when we post "handciap adjusted" times to this page (which will also show your raw times), then just let your captain know so they can file a protest by Monday per the rules below. It's week one, patience is key, we'll be in the flow with this thing pretty good by week 2 honestly, but we all have some bugs/kinks to work out here as it's been a couple years.

Thank you all for joining us this year – we are really so excited to ge the season under way!

Date
Race Week
Wave 1
6:30-7pm
Wave 2
7-7:30pm
January 6
Captain's Meeting & Practice
January 13
Race Week 1
See Above
See Above
January 20
Race Week 2
See Above
See Above
January 27
Race Week 3
February 3
Race Week 4
February 10
Race Week 5
February 17
Race Week 6
February 24
OFF – NO RACING – SCHOOL VACATION WEEK
March 3
Finals Week
(or Race Week 6 if rain date used during season)
March 10
(Makeup week if needed)
Finals Week
(if rain date used during season)
If You've Registered, But Not Yet Paid For Yourself or Your Team, Please Do So Online

—> Pay Here

Rules & Regulations:
1. Top 4 individual times on each team each week are counted toward team total. If there isn't at least one racer of a non-male gender in the top 4, the team suffers a penalty that week (basically we take the slowest finishing racer's time and add 10 seconds and add that as your 4th team time for that week).
2. All substitutions MUST be submitted by Tuesday at noon before that Thursday's race. No last minute subs. In fact, this year you will simply fill out and submit an online form with all the requested info as needed.
3. After each race, "handicapped" race results will be posted to this site by noon on Friday the day after racing.
4. All protests are due by noon the following Monday, before results are posted as FINAL by Wednesday morning.
5. Handicap Adjustment Chart: Available Here
6. Weather permitting, we'll have 7 weeks of racing – however many weeks we pull off, your team's worst placing week gets dropped. Finals week is worth the same points as any other week, BUT is ALWAYS included in final race results and NEVER dropped as your worst week.
7. Every racer will need a valid ticket or pass. There are no discounted tickets for Corporate Race League. If a ticket is needed, buy online before the day of racing for $25 ($5 for a new RFID card you can reload after initial purchase if you don't have an old card) and $29 day of.

PLEASE NOTE – we will look to do something for finals week, but it will not include a catered dinner (in the cost of your registration) this season, thought we will of course have delicious food offerings finals week just like every other! Our costs across the resort have gone up substantially (labor, diesel fuel for grooming, food, etc) and we figured instead of boosting registration by an appropriate margin to capture the normal expenses associated with our weekly raffles and catered finals dinner, we'd instead just do a more conservative awards/raffle weekly and nix the catered dinner on finals week altogether.

We're not really sure what the gathering will look after races at this week at this point as the COVID coaster remains pretty fluid as of mid December, so we'll just go with the flow. But our current plan is to host you in the Fireside Dining Room again as we have in years past. Any way you slice it, what we do know is we couldn't stand the thought of not doing this again this year, we just missed you all too much! So whatever form the post race gathering takes, we can't wait to see you!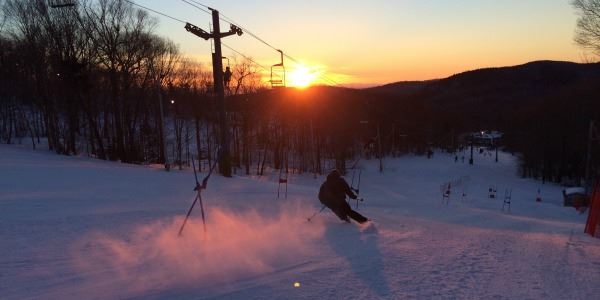 Oh, Winter 2019-20, My How The World Has Changed…
Recapping "Last" Season
The 2019-20 Corporate Race League Season That Was:
(there was no 2020-21 CRL season)
A new champion emerges…
Congratulations to Team Misfits your 2019-20 Beer League Champion!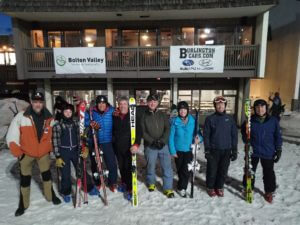 It was quite a year… 22 teams "competing," for the podium, but in the end it was really a 3 horse race. Defending champions (and MANY time champion over the years) Teams Gnarl found themselves neck and neck all season long with the Misfits and Team Beer was right there nipping at their heals if either should falter. Once the worst weeks were dropped heading into the finals on March 12, we had ourselves a tie for the top spot, so it would all come down to that final night… and oh, what a night! By the very slimmest of margins, Team Misfits eeked out the victory with a team time of 74.36 while Team Gnarl was just a half second behind with a 74.90. Doesn't get a whole lot closer than that, folks.
We hope you all had as good a time as we did and a big thank you to the tremendous team of race timers, course setters and "gate keepers" that put in all the hours week in and week out to make this thing happen. Not to mention the delicious wood-fired pizza everyone seemed to enjoy all season long… we'll see you next year!
| | | |
| --- | --- | --- |
| Team Name | Finals | Total |
| Misfits | 21 | 149 |
| Team Gnarl | 20 | 148 |
| Beer | 19 | 144 |
| PC Hammers | 22 | 135 |
| FROST 2 | 18 | 130 |
| FROST 1 | 16 | 120 |
| Ptex & Patchouli | 17 | 115 |
| Husky Hooligans | 15 | 103 |
| Notorious H&B | 14 | 97 |
| Team Clean | 10 | 79 |
| In It For The Apres | 9 | 75 |
| Chug Along | 7 | 74 |
| KW Cappers | 13 | 68 |
| PFC Slip and Fall | 8 | 60 |
| TC Frozen Suds | 3 | 57 |
| WORK 'ARD PLAY 'ARD | 6 | 53 |
| Wild Things | 12 | 51 |
| DCPW | 2 | 50 |
| Save Me a Seat at the Bar | 5 | 45 |
| Flex Realty | 1 | 43 |
| Debbie Downhillers | 4 | 38 |
| Frost Drillers | 11 | 31 |